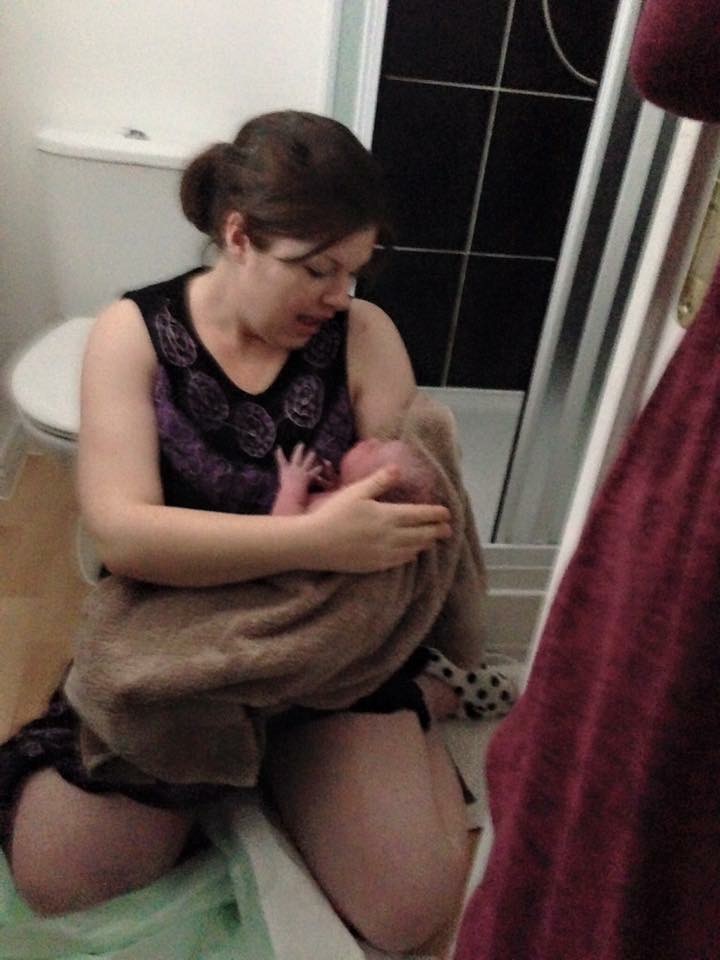 We found out I was pregnant quite early on this time (February 2015) and by 8 weeks we had met and hired our independent midwife (IM) Annie. She came highly recommended through our school community and had 35 years of midwifery experience to offer. Amelie was seven at this point and had been asking for a sibling for at least two years!

Since Amelie's birth we had moved 2 hours away from my home town, so I was aware that our previous doula Sallyann would probably not make it on time to our new home. When we spoke she reassured me that having hired an IM would mean building a relationship with her over many months, and that although she would come and support me if I asked her to, she suggested waiting until later in the pregnancy to see how I felt further down the line. I later found what she said to be true, and having got to know Annie well and met our 'second' midwife Lizzie, felt more confident about being able to birth at home without Sallyann. Richard said perhaps she was my comfort blanket - my safe go to person whom I associated with being able to birth. 

In the meantime we had a hypnobirthing course (the Mongan Method) delivered at home by Rachel at Blissful Births. During Amelie's pregnancy I had used Natal Hypnotherapy CD's and affirmations to prepare for labour and I really enjoyed learning more about hypnobirthing and the science behind why it works. I listened to the Rainbow Relaxation and Affirmation for Birth almost every day in my third trimester. If I couldn't sleep at night I would put them on quietly too.

There were queries about my dates from the start, because I worked out that my EDD was 12/10/15 but a twelve week scan estimated 6/12/15. As I had gone to 43 weeks +2 days last time we decided not to tell anyone our EDD because we felt it likely that it could be a long pregnancy again, and the pressure we had experienced in the final three weeks of Amelie's pregnancy, had prevented me from being able to really enjoy any of that time leading up to the birth. 

This time I had very strong Braxton Hicks from about 36 weeks. I would often have to sit down due to the tightening, but I knew they weren't labour. On 

Monday 11th October

 (41 weeks) I woke with mild surges lasting about a minute, coming every 10-15 mins. I woke my husband and asked him to help me time them. They started getting close together and at their peak were coming every 4-5 minutes. He filled the birth pool and we sat in the dark in the living room listening to music and I made a birth music playlist, something I had been meaning to do for weeks. We called the midwife after 4 hours (

2am

), she said she would be there shortly. I decided to go for a wash and brush my teeth but I think the excitement of it and the change of environment slowed it down. By the time she arrived surges had slowed and I went on to have just four in the hour that followed. By 

4am

 we had had a cuppa and I felt it would be best for us all to get some sleep if possible so she went home. 

By 

Saturday 17 October

 (41+4) I had resigned myself to possibly having up to another fortnight to wait, and tried to enjoy this time despite being very big and uncomfortable. I had severe pelvic and hip pain from about 35 weeks and my days during the final weeks consisted of chiropractic & acupuncture appointments, cooking and housework, watching movies, afternoon naps and hanging out with my hubby and our 8 year old.

I started having irregular surges on and off from 

1am

 

Saturday

 morning. I tried to sleep through them and told myself it was probably nothing. We went for a walk in the woods. I had to keep stopping to sit down and rest or breathe through surges but I never felt like birth was close as they were so spaced apart. It was lovely being outside and the colours of the trees changing really helped. I had a few surges in the car on the way home, and decided that I needed to be alone if possible and that I wouldn't go out again until after I had given birth. I texted Annie and gave her updates and she sent me reassuring messages in return.

Stronger surges started at about 

1am

 

Sunday

. Due to the stop-start nature of things earlier in the week I was reluctant to wake anyone up. I rested between surges, sleeping when I could. They lasted between 45 seconds to 2 minutes. I focussed on my affirmations and used an app on my phone to keep track of the surges. 

At 

6am

 I asked Rich to fill the pool. They were more regular. And getting stronger. At 8.10am I asked Rich to call Annie. I could hear Richard downstairs on the phone to her. He said that our hot water had stopped working and could she bring a kettle with her. Little did I know that he had filled the birth pool halfway before our hot water had stopped working. 

Annie arrived about 

15 minutes later

. She came upstairs to find me resting in bed in the dark. She whispered softly to me, asking how I was. I explained what I could, and she sat by me silently as another surge came and went. Between surges Annie checked by blood pressure, baby's heartbeat, and position of the head, which by now was well down in the pelvis. She reassured me that everything was OK, and that these surges looked strong and beautiful. Richard ran to a neighbour's house and borrowed two more kettles to get enough hot water in the pool. 

Amelie came in to the room and sat by me, stroking my back and hair. I had a surge which lasted about a minute and a half, I breathed through it using my favourite hypnobirthing technique - visualising letters of the alphabet, something which coincidentally I have done since I was a kid in stressful situations. I reassured Amelie afterwards that these feelings were all good, and how glad I was that they were strong. She went back downstairs to continue helping Richard get the pool ready. In hindsight I realise that the issues with the hot water actually kept Rich & Amelie occupied and allowed me to labour in the quiet dark room as I felt was ideal. 

I said to Annie I wanted to get in the pool, but that I didn't want to get in too soon in case things slowed down. I asked Annie if it could be worth checking how dilated I was (having previously decided that I did not want any VEs at all). She reminded me that these can be misleading because dilation can occur slowly or rapidly. Instead she suggested getting up and walking around for half an hour before getting in the pool. I liked the idea of having a plan. At 9.25am Rich said the pool was ready. 

I stood up, walked round the bed a bit, then walked the 3 steps into our en suite shower/bathroom. Annie went to get the mouthpiece for the gas and air - the 3 large canisters had been stored under our bed for the past 4 weeks. Richard came up to help get them out. Annie said at this point she went back downstairs momentarily to text her second midwife Lizzie, to say she wasn't sure if it was worth coming out just yet. 

I knew the surges would get stronger and closer together with the assistance of gravity but I had not expected them to do this so quickly. I used the loo, and then immediately felt my body 'bearing down'. I realised I could not stand up straight. This natural expulsive reflex was one I recognised as I had experienced it during Amelie's birth. The only way I can describe it is that by deliberately not pushing at all, it is what your body does when it pushes all by itself. When I tried to stand up I felt baby's head move down, when I tried to sit back down I felt the need to be upright. I grabbed a towel from the rail and put it down on the floor in front of me and knelt down on it.

I shouted 'I need to get in that pool!' a few times. Then I said 'I think she's coming!'. Before I knew it Richard was next to me on his knees, he said 'It's ok babe - you can do this!' I held onto his neck and shoulders, he passed me the gas and air mouthpiece. It felt so good to bite down on it! 

I heard a huge SPLASH, my waters had broken and our baby's head was born. I took 3 breaths and said 'head's out, hold on, head's out, hold on'. It felt as though I shouted this but Richard said it sounded more like I was just telling myself what was happening. My legs and arms were shaking a bit. I felt a huge surge of adrenaline. The mouthpiece fell off the canister! I asked for water, Rich bought a cup to my mouth and I drank, and chewed on a piece of ice. Richard called Annie, she came in. I heard her shouting 'Amelie, could you come up right away?!'

Annie had since said that she returned to the room to find Rich and I on the bathroom floor birthing our baby; that she arrived to see me kneeling, and our baby's head half out, rotating slightly slowly before her shoulders and the rest of her body was born. 

The second natural expulsive reflex happened and the rest of her slippery body was born. At this stage I felt a light touch on my thighs, as my eyes were closed I assumed it was Annie's hands, but it may also have been baby's arms being born. Annie said she asked Richard if he wanted to 'catch' our baby, as this was something we had said we would like to happen if possible. However I had my arms round his neck and the large gas canister was next to him, so he didn't have room. Annie caught our baby and brought her up into my waiting arms. Her body felt long and very slippery. She put a towel over baby and this kept her warm. 

Our baby started crying straight away, I was very relieved as Amelie's breathing had taken a few minutes to start. I held her to me and took a good look. I couldn't believe that it had been so easy and quick. I felt instant relief, both emotional and physical. I looked at Richard as if to say 'what the.....!' He was smiling and saying 'you did it babe!' I knelt looking at our baby for what seemed like ages. Amelie ran upstairs to find me on the floor holding her like that. 

Annie and Richard put a pad down under me and helped me strip off so I could have immediate skin to skin. The cord was so perfect it was beautiful. I brought her to the breast. She had dark hair that looked slightly curled as it was wet. For a while, the four of us sat on the floor of that teeny tiny bathroom looking at her. I asked Rich to take a picture, and then Annie took one of the four of us. 

We talked about getting in bed but decided the loo might be the easiest place to deliver the placenta. Rich and Annie helped me on to the loo. So I sat feeding her on the loo like that, just waiting, Richard knelt on one side of me, Amelie on the other. Annie suggested using the 'J Breath' (another hypnobirthing technique). I had a few surges and the placenta plopped out easily after a little wait. While I fed and waited, Annie told me about how she could tell the placenta had come away from the wall of the womb due to the colour of the cord. I couldn't see it so Rich took a picture of the cord under my tummy and showed me. At each stage Annie explained what was happening and that everything was alright, which was so helpful and calming. 

We fished out the placenta and I got into bed still holding our new baby. She stayed wrapped up in a towel like that for what seemed like ages, it was about an hour or more before we went down stairs & after a feed, eventually put a nappy on her. The cord had stopped pulsating, and Annie showed us the colour had changed, and explained that all the blood had transferred over to baby. Amelie & Richard cut the cord with her gentle guidance, she was still whispering the whole time. Amelie said 'that's tough!'

We used our handmade crocheted cord tie which had an Autumn Leaf at the end. Amelie had been given a matching bracelet. Richard wrapped baby up and took her downstairs whilst Annie checked be over, I had no tears and needed no stitches. I felt amazing.

Our birth photographer Jade arrived in the hour after the birth. I changed my clothes and put on my dressing gown and went downstairs to meet her. I was sad she missed the birth but I am still so happy that things happened the way they did. If I had known I was so close to birth when I had text Jade to come over, I may not have been so chilled out.

We sat in the kitchen for a little while and put the kettle on. Amelie had got her swimming costume on and went for a swim in the birthpool. I fed baby on the sofa and then Amelie, Rich & I snuggled on the sofa looking at her and soaking her up. The towel was all wet and I realised she had done a wee, so we put on her first nappy with Annie's help and snuggled her in a blanket. 

We later headed back to bed, where we gazed at her some more. The lady who we had hired to capsulate the placenta arrived to collect it, and she popped upstairs to say hi. Annie helped us administer the oral dose of Vitamin K. Amelie went to her friend's house which is in the next road. 

Annie and Jade left, then Rich & I lay on either side of a sleeping baby dozing and gazing in equal measure for a few hours. 

We had a message from our neighbour saying Amelie had heard they were having Toad in the Hole for dinner and she wanted to stay! She came back after they had eaten and we did bedtime as normal. It all felt so right and although I didn't get to use the pool, I have no regrets about that because it gave Rich & Amelie something important to do whilst I had privacy upstairs, and knowing the pool was full allowed me to start moving around, and let gravity assist in nature taking its course. 

I am so thrilled that the birth happened the way it did. As with Amelie's birth I feel we prepared for many different potential outcomes. It makes sense that my body birthed in the comfort of the smallest room in the house, like a cat making a nest to birth in the bottom of a wardrobe. 

The first (latent/slow) stage of labour was about 24 hours. I don't think there was any 'active' labour as such as it felt like I went from early labour straight to transition & birth. It tickles me that Annie was as surprised as us that the second stage was so quick, estimated at 5 minutes in all. 




Autumn Rose Evans arrived earth side at 930am. She weighed 8lbs 3oz, and was 53cm long with a head circumference of 35.5cm. It took 3 or 4 days before we decided on the name.




Annie came back every day for a while and is now coming weekly. I will be so sad when she stops coming over as it feels like she is part of the family! I'm sure her other clients must feel the same. I feel very blessed that we had someone like her, who was so very invested in our birth experience, who truly understood what was important to us and what we needed.