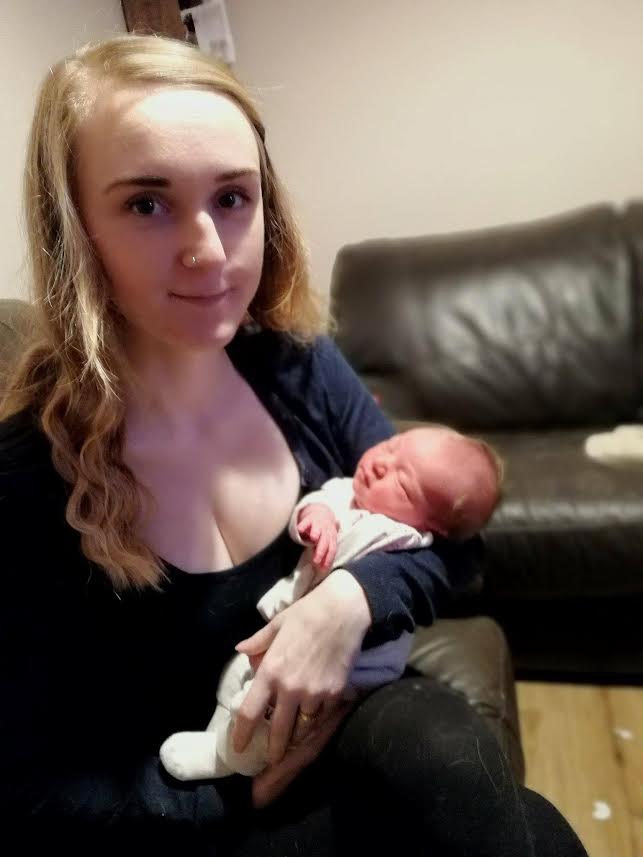 When I found out I was pregnant I expected the next 8 months to be filled with joy. I thought I would feel great. After having morning sickness everyday, sciatica, growth scans and prenatal depression, coming up to my due date I was more than ready for this baby to arrive. But that didn't mean I wasn't anxious about it.
Saturday 25th November at 3:15pm I started having what I thought were Braxton Hicks contractions. Cut to 5 hours later I started to realise they weren't just a practice. The maternity unit was over an hour away from my house so I phoned them as soon as I realised. Tthey advised me to wait until my contractions were more regular. 
By 10pm I couldn't wait any longer and we set off to the hospital. The car journey wasn't pleasant, but we got there, I felt more relaxed because I knew I was in the right hands. 
We waited for an hour to be given a bed. The other patients in the waiting room must have found it quite amusing to watch me having contractions as in order to manage, I had to kneel on the floor, leaning over a chair. 
Finally they took me on to the ward to be assessed. Once my contractions got stronger and more regular, we were moved to a room in their birthing centre. I chose to sit on a birthing ball which helped relieve a lot of the pressure that was gaining in my pelvis. I was in this room until 3am when I was examined and told I was 4cm dilated. I couldn't believe I was going to be having my baby on her due date. 
As I was now in established labour we were allowed to move to the room with the birthing pool which is where I had chosen right from the start to have my baby. The warm water felt lovely and relaxing which helped me to focus and breathe through every contraction. I had my husband right by my side the whole time and he really helped me to focus on my breathing. 
Nothing much happened for a few hours after that. I just continued with my breathing techniques and focussed on getting through each contraction. I was asked to get out of the pool and examined again at 7:30am before the day staff came in. I had progressed to 6cm which was really encouraging. 
From 8am onwards we had a midwife with us all the time. She was truly amazing. Her and my husband made a great team and encouraged me through the rest of my labour. At 10:30am I was examined again and they decided to break my waters as labour had stopped progressing. Again I breathed through the process and stayed calm even though I was scared. 
From 10:30am until midday I started to go downhill. I hadn't eaten or drank anything since 6pm the day before and started to become dehydrated. I was tired and fed up. At midday the midwife told me I needed to go on a drip as my cervix had thickened. At this point I wanted to give up. I just wanted to sleep and after going almost 12 hours with no pain relief I cried out for an epidural. 
I was transferred to the labour ward immediately, meaning I couldn't have the water birth I had been planning my entire pregnancy. I was tired and going in and out of consciousness. The only thing waking me up was the contractions. They placed me on a drip and I told them I wanted an epidural. At this point all I wanted to do was sleep. The midwife told me I had to wait an hour for an epidural as the team were in theatre doing an emergency c section. That next hour was the longest of them all. 
Once the team were out of theatre the midwife examined me to make sure I was able to have the epidural. She told me I was 9cm dilated and that I wouldn't have to carry on too much longer as the baby would be here soon. I decided against the epidural and chose to push on without any pain relief. 
Twenty minutes later I had the overwhelming urge to push. After pushing for about an hour the midwife said the magical words "I can see the head". That was it, I was more determined than ever to push this baby out. 
At 3:32pm on Sunday 26th November our little girl entered the world at a healthy 6lb 10.5oz. The feeling I got when they placed her on my chest was indescribable. Once the cord had gone white my husband cut it and not long after I felt the need to push again. It took me 40 minutes to push out the placenta, again I did this completely natural and chose not to have the injection. 
Nothing will ever compare to the feeling I have when I look at my baby girl and can tell myself that I brought her into this world naturally without any pain relief. Despite me not getting the water birth I really wanted, I couldn't have had a better labour. It's so empowering knowing what I have done. 
Post birth I now feel that anything is possible. Breastfeeding has been difficult and also painful but I keep telling myself that if I can go through childbirth without any pain relief then I can do this. Nothing seems impossible anymore.